Other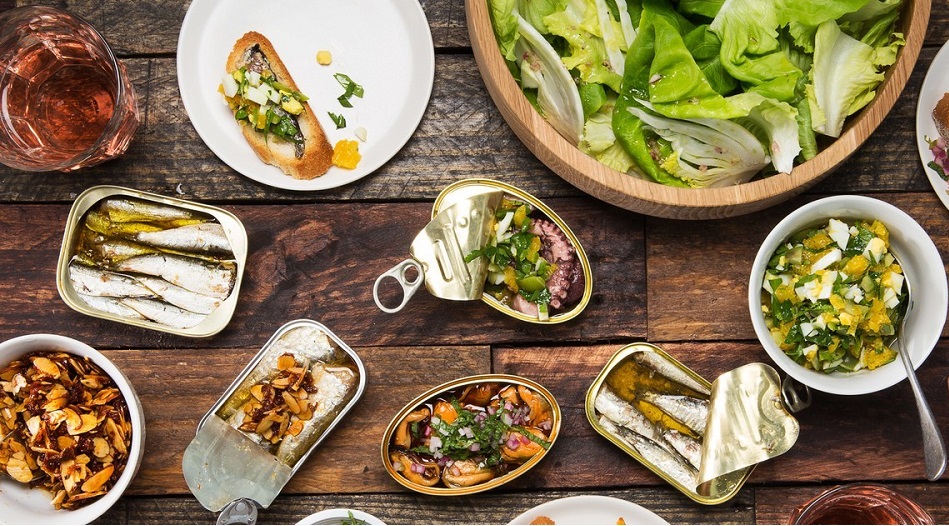 Clams: Clams can be eaten raw, steamed, boiled, baked, smoked or fried. They can also be made into clam chowder or they can be cooked using hot rocks and seaweed in a New England clam bake.
Eel: In northern Germany, the Netherlands, the Czech Republic, Poland, Denmark, and Sweden, smoked eel is considered a delicacy.
Mussels: Humans have used mussels as food for thousands of years. In Belgium, the Netherlands, and France, mussels are consumed with french fries ("mosselen met friet" or "moules-frites") or bread. In Belgium, mussels are sometimes served with fresh herbs and flavorful vegetables in a stock of butter and white wine. Fries and Belgian beer are accompaniments. In the Netherlands, mussels are sometimes served fried in batter or breadcrumbs, particularly at take-out food outlets or informal settings.
Sprats: Young sprats are also commonly known as brisling or skipper, is a small, herring-like, marine fish. Canned sprats (usually smoked) are available in many north European countries, including the Baltic states, Scandinavia, Ireland, Germany, Poland and Russia. They are an important Latvian export. The majority of brisling sardines that are sold to the public are harvested off the coasts of Norway and Scotland.
Octopus: Octopus is a typical dish in Galicia, Spain, they prepare it in a variety of ways, however, one of the most common ways to prepare it is what they call "á feira", in this case, they cook the octopus, cut it and add salt, olive oil and some spicy paprika, in some cases, octopus may be accompanied with some cooked potatoes.
Oysters: Jonathan Swift is quoted as having said, "He was a bold man that first ate an oyster." But, evidence of oyster consumption goes back into prehistory, evidenced by oyster middens found worldwide. Oysters were an important food source in all coastal areas where they could be found, and oyster fisheries were an important industry where they were plentiful
It was once assumed that oysters were only safe to eat in months with the letter 'r' in their English and French names. This myth is based in truth, in that in the Northern Hemisphere, oysters are much more likely to spoil in the warmer months of May, June, July, and August.
Middens testify to the prehistoric importance of oysters as food, with some middens in New South Wales, Australia dated at ten thousand years. They have been cultivated in Japan from at least 2000 BC. Many breweries produce Oyster Stout, a beer intended to be drunk with oysters that sometimes includes oysters in the brewing process.
Trout: Trout are closely related to salmon and char (or charr): species termed salmon and char occur in the same genera as do trout (Oncorhynchus - Pacific salmon and trout, Salmo - Atlantic salmon and various trout, Salvelinus - char and trout).
There are no products listed under this category.